Rodents
Mice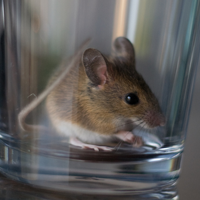 Mice are rapid breeders and also spread bacteria laden feces and urine as they travel throughout your home. Homeowners are likely to notice evidence of mice during winter, following their migration indoors in search of warmth, food and shelter. Yet, due to their nocturnal nature, they're rarely seen by the homeowner. Snap-traps and those boxes of pellets will not stop them alone, and may pose a hazard to your children and pets.
Good sanitation and food storage practices are helpful in reducing problems with house mice. However, because mice are able to occupy such small nesting areas and survive on such little food, sanitation alone will not eliminate an infestation. Contact N.E.CHEMICAL/NEPC OF NH for complete rodent elimination featuring the latest in single-feed rodenticides strategically placed in tamper resistant stations where mice are most active. Exclusion also available for lasting results (Integrated Pest Management)
Reasons To Control Mice
Mice are prolific breeders, producing 6-10 litters continuously throughout the year.
House mice gnaw through electrical wiring, causing fires and failure of freezers, clothes dryers and other appliances.
Mice also can transmit diseases, most notably salmonellosis (bacterial food poisoning) when food is contaminated with infected rodent feces.